National Engineering Month
Explore engineering during National Engineering Month!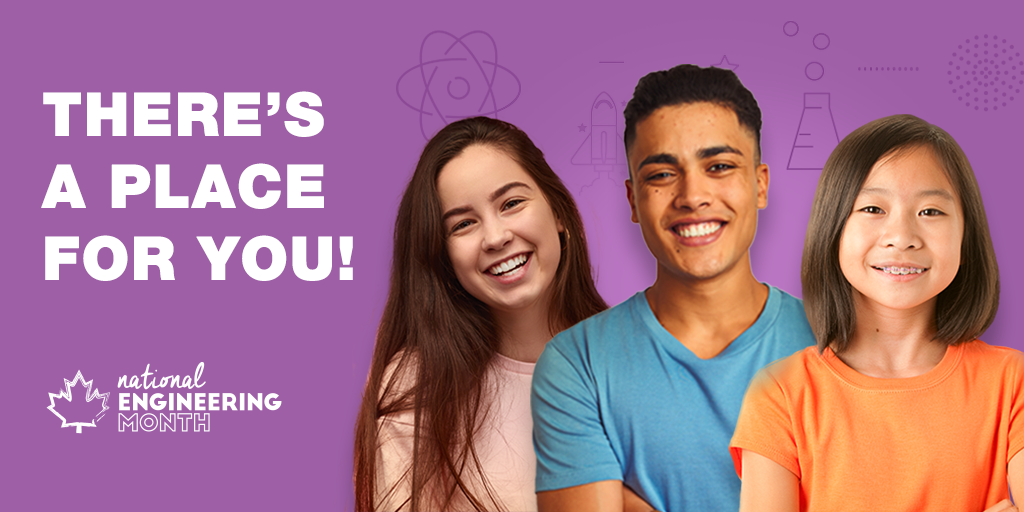 National Engineering Month is Canada's largest celebration of engineering excellence. An annual national campaign featuring fun and inspiring events that will spark an interest in the next generation of engineers, National Engineering Month also celebrates the role that engineers play in society. Every year in March, thousands of youth, parents, teachers, engineering students, and engineers-in-training interact with engineers and others who volunteer their time to host events that demonstrate how rewarding a career in engineering can be. In some provinces, you'll find geoscientists joining in the celebration as part of National Engineering and Geoscience Month.
Presented by Engineers Canada, National Engineering Month revolves around the theme, "There's A Place For You in Engineering," which celebrates the diversity of thought, opportunities, and people that make up the engineering profession, and demonstrates that there's a place for everyone in engineering. National Engineering Month demonstrates how engineering shapes our daily lives, and the month fosters a strong, diverse, and inclusive engineering culture in Canada.
Whether you're hosting an event or simply want to help us promote National Engineering Month and the engineering profession, we want to collaborate with you to make National Engineering Month even bigger and better this year. Find out more below.
Host an event
If you are hosting an engineering event during National Engineering Month, we want to hear all about it! Send us details of your event, and we'll add it to the list on our website of public events happening from coast to coast to coast in March 2022. This can bring more visibility to your event and to your organization's outreach efforts, and can increase participation in your outreach activities. It will also demonstrate that you are part of a larger, national celebration of engineering with like-minded organizations across the country.
Tell us about your event by filling out this form.
Important dates
January 24, 2022: event registration opens
March 1-31, 2022: National Engineering Month!
April-May, 2022: post-event evaluation
Promote your event
National Engineering Month would not be successful without the dedication of countless volunteers and members of the engineering community across the country who dedicate their time and effort to organizing events. We hope that we can help make your event an even greater success by adding it to the list of National Engineering Month events happening across the country. To facilitate cross-promotion of events, we also encourage you to promote your events in your communities:
Social media: Spread the word on social. Engineers Canada is active on Twitter, Facebook, and LinkedIn. Tag your posts about your event with the hashtag #NEM2022 (or #NEGM2022 for National Engineering and Geoscience Month) and we will share your posts with the broader engineering community.
Local media: Reach out to local media to let them know that a National Engineering Month event is taking place in their community.
Additional ways to participate in National Engineering Month
No events planned during National Engineering Month? That's ok! You can still participate in National Engineering Month by helping us spread word about the #NEM2022 campaign through your channels and networks. Consider shining a light on the engineering profession by featuring you and your company's engineering work, or sharing what inspired you to become an engineer.
Are you a teacher or parent? Do you have children or youth in your life? Encourage them to explore what engineering has to offer, either by partaking in one of the many events throughout the month, or by trying some of the fun engineering activities available on ExploreEngineering.ca that can be done easily at home or in the classroom
Questions
If you have more questions about National Engineering Month or Engineers Canada's outreach work, contact Kim Bouffard, Manager, Outreach at Kim.Bouffard@engineerscanada.ca. For media inquiries, contact Shelley Ford, Communications Specialist, at Shelley.Ford@engineerscanada.ca.