Réjeanne Aimey P.Eng, MBA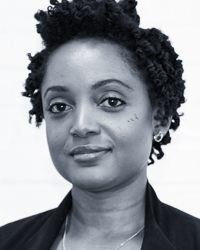 Réjeanne Aimey loves it when the theoretical world comes to life in real products that we use.
A mechanical engineer by training, she currently works as a senior consultant at KPMG, one of North America's leading accounting firms. There she provides scientific research and experimental development consulting for companies involved with areas like manufacturing, power generation, aerospace, chemical, oil and gas, and on-road and off-road transportation equipment. "What I like most about my job," she says, "is observing the science in use behind a variety of research concepts"
When she was young, her family moved from Winnipeg to Trinidad and Tobago, where she found herself in an environment that guided her towards engineering. "We were introduced to science early, which definitely fostered an interest," says the 39-year-old. "That eventually led to curiosity and interest in physics, chemistry, biology, and math."
"Engineering was the natural best step from there."
After high school, she returned to Canada and attended the University of Western Ontario, where she completed a BESc in mechanical engineering in 2003. In 2007, she went on to earn an MBA from the University of Phoenix—a degree she completed part-time, while working in her first professional job.
Learn to solve problems at the grassroots level
Having grown up in a family of engineers greatly assisted her in her career path, but she does note that she would have made some choices differently. "Most things we need and use have already been invented and are unlikely to be re-created or re-developed to any significant degree," she notes. "We encourage kids to get into engineering to help solve problems in traditional disciplines, yet it isn't obvious what is truly needed in these areas at a grassroots level."
To her mind, the key to success in engineering today really lies in identifying future societal needs and determining how basic principles can be applied to develop products and services to support those needs. In other words, as she puts it, "Engineers need to engineer their own careers, even as they shape society's future."
She also considered architecture when thinking about careers. "I am in love with the spatial arrangement, flow, and design of building interiors and exteriors," she says, "but I ultimately moved away from architecture because I felt the opportunities were limited compared to those in engineering." A STEM career wasn't always a given either, she notes "If I was looking now, the reality is that I'd probably be in the field of holistic and energy medicine. It's somewhat of a hobby of mine and I do definitely enjoy having interests outside of work with completely different sets of people."
When young people are considering how best to develop their careers, Réjeanne recommends that they do internships whenever possible. She feels these played a critical role in her professional successes, saying that "Companies value experience over education, once you have it."
She also attributes her success in no small part to the mentors in her life. "The common thread between these people is they were always people who came to know me and respect me by the work that I've done as opposed to the network of people who I know.
"These angels have put me onto many an opportunity over time; the sum of these experiences has shaped who I am today."
Life is about integration
To anyone about to face an interview, Réjeanne offers some useful advice: "Because you've already met the criteria to get to the interview, the thing that's going to make a difference is now is your personality. Let who you are shine. Let them see how you think."
She emphasizes that it's important for young people to remember that they are also interviewing the employer: "You will spend that majority of your time there, and the last thing you want to do is stagnate." She recommends asking yourself questions such as "Will I feel comfortable there?" and "Does this support the type of non-work life that I want?"
Even in her prestigious current role, Réjeanne is excited to continue developing herself in new directions. "Ultimately, I would love to someday run my own company that serves the needs of broader society while developing local communities and local talent. I picture fresh talent, thinking, and ideas. We continually and successfully expand thought, to provide solutions where we each thrive and simultaneously support the web of life."
To anyone considering a career in engineering, Réjeanne does has one recommendation above all:
"Go for it!
Engineering teaches you how to think and solve complex problems.
Life is about integration, and regardless of the subject,
engineering teaches you how to analyze and navigate that."