Damineh Akhavan, P.Eng., MBA
Damineh Akhavan struggles to remember a time when she didn't want to be an aerospace engineer.
Her love of airplanes began when she was at an airport with her parents when she was two years old.
"My mom says I pointed at an airplane and said, 'I want one,'" the 35-year-old describes. "My dad said, 'Well you can't have one.'
"But I said, 'No, no. I want to make one.'"
The next year, at three years old, she watched on television from her native Iran as the space shuttle Challenger took off in 1983 with astronaut—and the first American woman in space—Sally Ride on board.
"When I saw her," Damineh recalls, "I wanted to be an astronaut. That's what I wanted to do, that's what got me into engineering."
Moving to Canada to pursue her dreams
But her path to becoming an engineer wasn't without hurdles.
"When I was in grade two, I wrote an essay that said that I wanted to be an astronomer and discover a planet where people could live; and I wanted to be an engineer to build a spaceship; and I wanted to be an astronaut to take all the poor people on earth to that planet that I'd discovered.
"My teacher told me to go write another essay because it wasn't realistic."
Nevertheless, with the support of her parents, Damineh persevered.
"My dad was the one who would tell me that I could do whatever I wanted. He used to take me up on the roof to look at the stars. He always pushed me to do it."
And it was in that spirit that her parents uprooted their lives in Iran, leaving behind their careers as professional musicians, and moved the family to Canada when she was 17 so that Damineh could pursue aerospace engineering.
"Back in Iran, there wasn't really anything that could take you to space," Damineh recalls. "So my parents said, 'Let's pack up and go,' and we came to Canada so that I could do what I wanted to do."
She enrolled at the University of Victoria, doing a double degree—a bachelor of engineering in mechanical engineering and a bachelor of science in physics—before going on to also earn an MBA.
Throughout her degrees, she interned at aerospace companies in California, and when she graduated, she had a number of job offers in the United States, as well as an offer from Viking Air, a leading utility aircraft company in Sidney, British Columbia.
Even though the Viking opportunity paid half of what the others were offering, Damineh accepted it anyway, knowing that the engineering department was fairly new and that the career path would be interesting and offer many opportunities for advancement.
Ten years later, she's still at Viking and is the lead engineer supporting the more than 1,300 de Havilland legacy aircraft worldwide.
"I love my job"
As a Senior Engineer at Viking, Damineh is involved in a lot of modification work—if the customer comes in and wants to alter their aircraft or can't procure parts, Damineh makes modifications to the design.
She has also obtained her Transport Canada delegation, which means that she can approve designs and is now approving the work of other engineers and mentoring them in the work that she herself used to do when she first started at the company.
More recently, she's also been getting increasingly involved in aircraft accident investigations. When aircraft have been involved in accidents, she does damage assessments on them to determine, from an engineering perspective whether they can be made airworthy again, and what needs to be done to do so.
Her job at Viking has taken her around the world—from various locations within Canada, to Japan, India, Austria and Argentina—giving her the opportunity to interact with a variety of clients and people, and to learn about their different cultures.
It's this human interaction that Damineh says she loves most about her job.
"I love my job," she raves. "I just love dealing with different people and the icing on the cake it that I'm working on airplanes."
Thirty-three years later, and Damineh has made that two-year-old's dream of building airplanes come true.
"You go to a doctor, their tools are engineering.

You're driving, the bridge is engineering.

The cell phone you're holding, it's engineering.

Everything is engineering. That's what gets the world going. Every other profession depends on engineering. Everything that you have at home, in your car, at work; none of it would be there if it weren't for engineers."

--Damineh Akhavan, P.Eng., MBA
Discover Engineering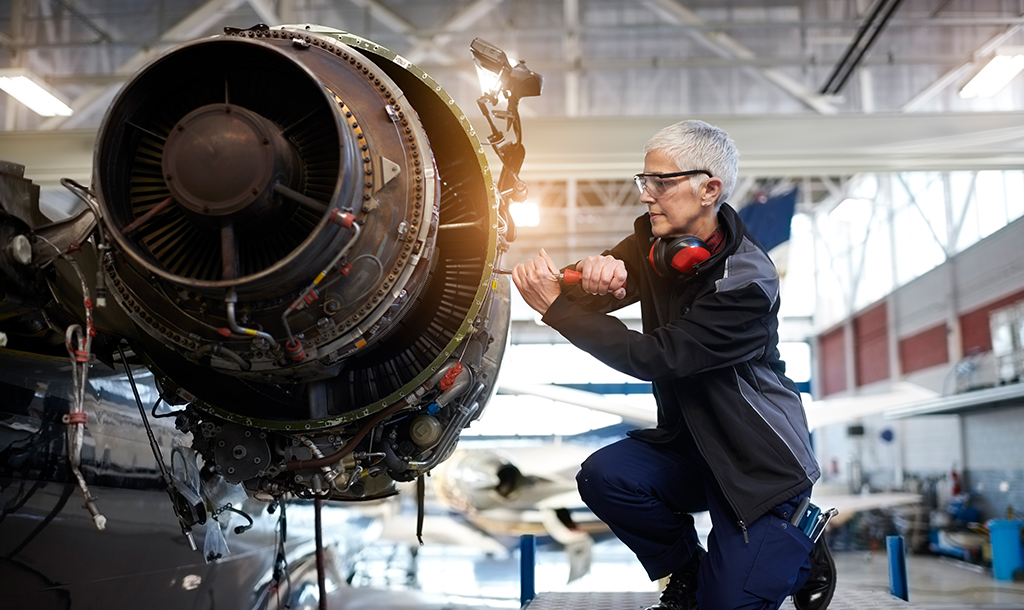 Aerospace Engineering
More Disciplines